Our Jewelry
Each piece is designed and handmade by Laurie or Lisa.  We take pride in the fact that all our pieces are either one-of-a-kind or limited edition. We also offer custom design services for individual commissioned pieces. In addition, we have delighted in donating pieces to a range of charities including Boys & Girls Clubs, The American Heart Association, The American Red Cross, The Humane Society, Tu Nidito, Women's Cancer Benefit – NYU Medical Center and Angel Charity for Children, Inc. We would welcome requests for charitable donations of our jewelry.
We use only the finest materials in our creations. We love to travel together with our families and are fortunate to be able to spend some of our time together scouting for supplies, including glass pendants in Venice and Murano, crystal beads in Austria and pearls in the far east.
We hope you enjoy our collections!
Bangle Bracelets in Silver & Gold
Bangle Bracelets in Sterling Silver or Gold. You can choose you 12 mm Pearl Color combination or all of one color pearls. We recommend 12 mm pearls, although 14 mm may be used.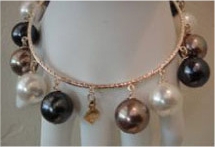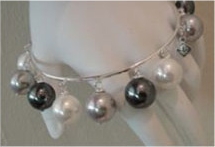 Chain Collection
Our Sterling Silver and Gold Chains can be designed with pearls of you choosing. We recommend 12 mm Pearls (as shown here), although 14 mm are an option. The earrings can be made in 1 inch, 2 inc and 3 inch lengths. There is also the option for a gold tone or silver tone rhinestone at the bottom of the earrings.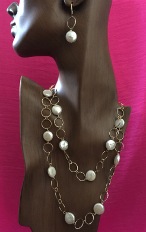 Coral & Turquoise Shell Pearls
These area natural shell pearl with multiple coats of Coral or Turquoise Coloring. Each piece is individually strung to your desired length and available in three different styles as shown on our website.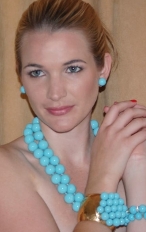 Cuffs & Pin Pendants
These Silver and 14K Yellow Gold coated brass Cuffs and Pin-Pendants are available with a variety of different sizes and colors of pearls. Available Colors listed in section.



Pearls
"The world is you oyster when you wear our pearls."
If diamonds are a girls best friend, pearls are a close second! Certainly, pearls can be as pricey as diamonds, especially if you're buying natural pearls from the South Seas or even some of the finer cultured pearls. We're delighted to have found some of the less expensive alternatives (such as mother-of-pearl shell) with the same classic look and appeal. Our pearl collection includes a vast array of sizes and colors, including some multi-color showpieces for all seasons and occasions.
There are a lot of reasons why many pearls lovers all over the world prefer buying shell pearls. The first one is their price. Wearing pearls is no longer the privilege of those of means, the shell pearl is an affordable product for every pocket. The range of prices varies of course, and some shell pearls are expensive as a result of their excellent quality, but comparatively speaking shell pearls are still much easier and cheaper to buy.
The second reason is the quality of the shell pearl. The rarity of the cultural pearl not only makes it expensive, but also makes it hard to find in perfect shape and size. The manual production of the shell pearl enables the manufacturer to determine the shape, size, and color of the pearl, thus making the final result seem perfect.
The modern technology of pearl production can also assure its durability. The shell pearl will always keep its shine and color, and will not be affected by sweat, perfume or detergents. The pearl in its marketing form is a result of a long process of shaping and coating, and intensive quality control inspection.
Another reason for purchasing this product is the possibility of controlling it's shape and color. This means the client is able to choose between different colors and shapes, and buy the one which suits his/her taste the best. This also means the manufacturer is able to offer a whole new world of colors and shapes, which are not to be found in cultured pearls.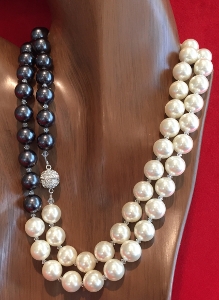 Pearl and Gemstone Collection
Our Pearl and Gemstone Collection includes 12 mm, 14 mm, 16 mm and 18 mm pearls in the color of your choosing. Almost any color stones can be combined with your pearls.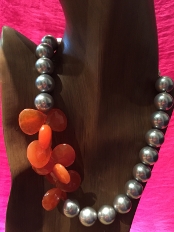 Pendants
There Pearl Pendants are on removable Silver or 14K Gold Enhancers with coordinating Silver Tone or Gold Tone Rhinestone Balls (available pearl colors listed in this section).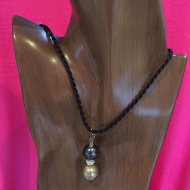 Rhinestone Earrings
These earrings are available in Gold Tone and Silver Tone Rhinestones in various sizes, as well as Single, Double and Triple Earrings. As is true with all our earrings, they are available in Posts, Lever Backs and Clips.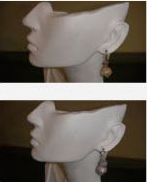 Ring Collection
Our Ring Collection can be designed with any of our pearls and Coral Shell Pearl and Turquoise Shell Pearls as shown here.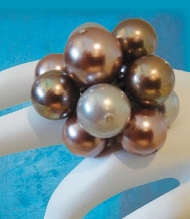 Sterling Silver Collection
The collection includes a selection of Sterling Silver Necklaces, Bracelets and Earrings.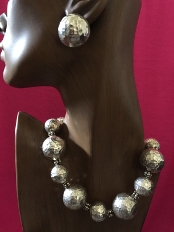 Wedding Collection
The Pearls in our Wedding Collection are available in smaller sizes than our pearls in the Pearl Section of our website.